dimecres, 31 de maig de 2017
The Jive Aces are a six-piece UK based, high energy,jive and swing band, formed in 1989. They were the winners of BBC TV's Opportunity Knocks, and Britain's Got Talent semi-finalists in 2012. They have recorded singles and albums, and have performed at numerous music festivals.
The band is widely recognised as one of the top swing bands in the world, something borne out by their extensive international travel (the band has performed in over 30 countries). The June 2015 issue of "Vintage Rock" magazine described them as the "UK's number one jive and swing band" " in a six page feature on the band titled "Leaders of the Pack".
They have received an award from Variety, the Children's Charity for their charity work,and the City of Derry International Music Award in 2006.
On 9 July 2010, the band headlined at the first ever swing dance at the Royal Albert Hall.They played to approximately 1,400 dancers on the 5,000-square-foot (460 m2) dance floor, with support from the Back To Basie Orchestra and Top Shelf Jazz. In late August 2010, the Jive Aces performed at the Edinburgh Fringe Festival in a show tributing one of their musical heroes, Louis Prima. In February 2011, after recording in Los Angeles, they toured the United States, including opening for legendary singer Keely Smith, the former wife of Louis Prima.[20] Keely Smith has also sung with the band on a number of occasions, including shows in Los Angeles, Palm Desert, Phoenix and at the Edinburgh Fringe.The band played London's famous jazz venue Ronnie Scotts for the first time in July 2011. In Spring 2015, the band did their biggest tour to date, 6 weeks of major theatres around the US (mostly 1000-2000+ capacity) The tour was a huge success, with more major US tours to follow in Winter 2015 and 2016.
Viral video "Bring Me Sunshine"
In March 2011 the band produced a YouTube video for their cover of the Morecambe and Wise theme song Bring Me Sunshine in a Louis Prima, jive style. It went on to win several awards at film festivals, and a Silver Telly Award. The video is noted for its uplifting quality and has even been prescribed by a US doctor for depression, as noted in national media.
Britain's Got Talent
In January 2012 The Jive Aces auditioned for Britain's Got Talent, with the audition airing on week 6 on Saturday 28 April 2012, performing the band's version of the Jungle Book classic, I Wanna Be Like You. The band greatly impressed the judges, with Simon Cowell calling them "Absolutely brilliant" and adding "That really put me in a good mood"! They went on to become the first live band to get through to the live semi-finals of BGT.
Performing for HM The Queen
On 15 May 2012 the Jive Aces performed for HM the Queen & HRH Prince Philip on their visit to Bromley as part of her majesty's Diamond Jubilee celebrations. The band also performed as part of the Jubilee celebration in Hyde Park, featuring alongside other BGT acts. In 2013 the band played 4 shows at Buckingham Palace for The Coronation Festival, the first ever public festival inside the grounds of the palace.
Glastonbury 2015 and other festivals
In May 2015 it was announced that The Jive Aces would perform on the Avalon Stage at the world famous Glastonbury Festival. This was the bands second appearance at Glastonbury, but their first on the Avalon Stage. The band's set was considered a highlight of this year's festival and a short clip of a mid-set keyboard collapse and speedy recovery by pianist Hurley went viral with online features in the Mirror (who called Hurley "Brilliantly committed" and "a hero of Glastonbury") and Telegraph, and as far afield as Nigeria and Singapore.
The band has also appeared at numerous major festivals including Lovebox, Montreux, Hop Farm Festival,Bearded Theory, Ascona, North Sea Jazz, Jazz a Montauban, Bansko Jazz Cork Jazz, Lunel Jazz, Klaipeda Jazz, Edinburgh Fringe, Viva Las Vegas and even as far afield as Thailand for the Bangkok Intl Festival of Dance & Music.
The Jive Aces have also performed at many special events including the London Olympics at Trafalgar Square, both Conservative Party and TUC Conferences and for a crowd of 15,000 at the "Moonwalk" cancer charity fundraising walk in London.
The band has put on their own annual charity festival, "Summertime Swing]", in the grounds of Saint Hill Manor, East Grinstead, since 2004. The event has featured many well known jazz and roots performers including Keely Smith, Kenny Ball, Acker Bilk, Laurie London, Chas McDevitt and Ray Gelato. In the last 3 years alone the event has raised £17,000 for charities including The Not Forgotten Association.
"Spread A Little Happiness" released
On 1 June 2015 the band released their ninth studio album "Spread A Little Happiness", featuring the single "La Dolce Vita", "Smile", "L.O.V.E" and nine other tracks including five original songs. This album, along with all of the bands releases since 2005, was recorded at Mad Hatter Studios in Los Angeles, CA. Most of their recent recording projects have been done with Grammy winning mixer/engineers Brian Vibberts and Buck Snow.
Collaboration
The Jive Aces have featured many guest artists on their recordings, including Chick Corea,Kenny Ball, Mark Isham, Ray Gelato, Mr Acker Bilk,Toni Elizabeth Prima, The Satin Dollz The Flirtinis, Rebecca Grant, The Three Belles and more.
In live performance the band has worked with Van Morrison,Keely Smith, John Travolta, Kenny Ball (with whom they worked extensively on the Jazz Meets Jive theatre tour 2010-12 and since 2014 have been featuring West End star Cassidy Janson (Wicked, Avenue Q, Dessa Rose, etc.) as guest singer at many shows.
Original Songs
Although the band predominantly plays covers in their live performances, all members of the band have written songs for the bands studio albums. Some of the best known are "La Dolce Vita", "Ukulele Swing","Christmas Is Where You Are" and "London Rhythm", which was used as theme song for Jo Good's BBC Radio London show. All of the band's albums feature some original tunes and the concept album "Amazing Adventures" (inspired by film noir and pulp fiction of the 40's & 50's) is entirely self penned.
Promotion of Scientology
The band have been known to perform up to 300 times a year,[105] often promoting Scientology[ or presenting an anti-drugs message. They have been noted for their energetic and confident performances, which they attribute to "workable solutions found in Scientology religious principles". The Jive Aces have supported the Church of Scientology's Say No To Drugs campaign since 1996, performing to shoppers in city centres throughout the UK, to give a message to young people that it is "not cool to take drugs", through distribution of "Truth About Drugs" booklets and collecting signatures on a petition asking MPs for more effective drug education in UK schools.
In April 2012, the band lent their support to the Multi-Marathon for a Drug-Free UK, a 130-mile run organised by the Church of Scientology from London to Brighton and back to promote a drug-free lifestyle, as it passed through Crawley, West Sussex.
dijous, 11 de maig de 2017
Membres del grup
Chuck D.-Vocals
Jim V.-Guitar/Vocals
Nick H.- Bass/Vocals
Pat S.- Percussion
Lloc d'origen
Milwaukee, WI
About
Four out of five dentists agree that The Get Hot are a swingasm shot by a crazer beam of Rock N' Roll. Heavy on the Roll.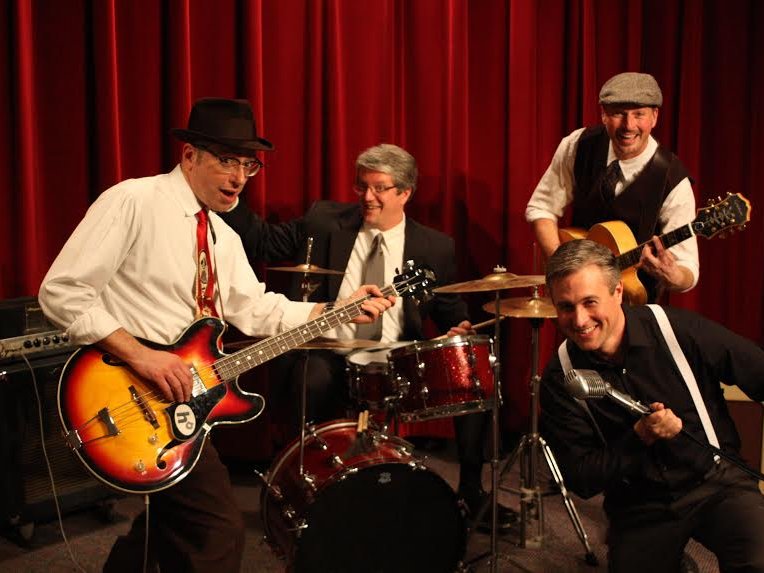 dijous, 4 de maig de 2017
Robert Glynn "Bob" Luman (15 April 1937 – 27 December 1978) was an American country and rockabilly singer-songwriter.
Luman was born in Blackjack, Texas, but raised in Nacogdoches, Texas. His early interest in music was influenced by his father, an amateur fiddle, guitar and harmonica player. Bob Luman received his first guitar when he was thirteen years of age.
Luman attended high school in Kilgore, where the family had moved after young Bob's birth. It was in high school that Luman started his first band.
Luman had been a baseball star in his high school, and he tried out with the Major League Baseball Pittsburgh Pirates, but when he didn't make it in professional baseball, he decided to concentrate on music. In 1956, he won a talent contest promoted by the Future Farmers of America, which earned him an appearance on the Louisiana Hayride.
For the Hayride, Luman formed a backup band called the Shadows, including James Burton on guitar, James Kirkland on bass and Butch White on drums. In 1957, the band signed with Imperial Records, where they recorded "All Night Long" (b/w "Red Cadillac and a Black Mustache") and "Amarillo Blues."
That same year, the band appeared on the Town Hall Party in Los Angeles, and appeared in the movie Carnival Rock, where they backed up David Houston.
The following year, having been dropped by Imperial Records, Luman signed with Capitol Records, where he released "Try Me" and "I Know My Baby Cares." Capitol Records wanted Luman to change his name, which he refused to do, so he left the record label and signed with Warner Bros. Records, recording "Class of '59" and "Loretta."
In 1960, Luman was inducted into the United States Army. It was while still in the Army that Warner Bros. Records released Luman's best-known crossover hit, "Let's Think About Living," a novelty song that hit No. 7 on the Billboard Hot 100 chart and No. 9 on the Billboard country music chart.It also reached the Top 10 in the UK Singles Chart.
After leaving the Army in 1962, Luman moved to Nashville. On 12 August 1964 he married Barbara in Yuma, Colorado.[citation needed] In 1965, he joined the Grand Ole Opry.
Later career
Luman toured frequently in the 60s and 70s, and became popular in Las Vegas, with an act which combined country and rockabilly. He signed with Epic Records in 1968, and had several hits with them, including "Lonely Women Make Good Lovers" and "Still Loving You." "Lonely Women Make Good Lovers" became his biggest country hit, hitting No. 4 on the country chart. (Steve Wariner, who had earlier been a member of Luman's band, later covered the song in 1984, and he, too, took it to No. 4 on the country charts.)
Luman's other country hits included "Ain't Got Time To Be Unhappy" (1968), "Ballad of Two Brothers" (with Autry Inman, 1968), "When You Say Love" (1972), "Neither One Of Us (Wants To Be The First To Say Goodbye)" (1973), "Proud Of You Baby" (1975), and "The Pay Phone" (1977). Perhaps his most unusual song was a slow, soulful recitation of Johnny Cash's "I Still Miss Someone."
Luman died in Nashville of pneumonia in 1978, at the age of forty-one. After his death, Bear Family Records released several compilations of his songs, including More of the Rocker, Still Rockin' and Carnival Rock.
Legacy
Luman is a member of both the Rockabilly Hall of Fame and the Texas Country Music Hall of Fame.
Bob Luman started out as a rockabilly performer, switched to country and then in the late '50s nearly ditched the music industry altogether; were it not for the interference of the Everly Brothers, Nashville would have lost a popular and talented performer to major league baseball.
He was born in Nacogdoches, Texas, and grew up loving both sports and music. As a teen, Luman was a high school baseball star, and was so good that he caught the eye of several major league baseball scouts. Through his teens, Luman was primarily interested in singing country music like his idol Lefty Frizzell, but then he saw Elvis perform at a country music show. This inspired him to try his hand at the rockabilly sound and found his own band, which soon began performing at school activities and for area clubs. Soon after graduating, Luman won a talent contest, leading to his debut on the Louisiana Hayride. He was well received and became a regular in the mid-'50s. He was handsome, young and talented to boot, so it was only natural that Luman begin appearing on television. In 1957, he had a small role in a Hollywood film, Carnival Rock. He also appeared in Las Vegas along with Tex Ritter and Johnny Cash. Still, his singles did nothing on the charts.
In 1959, the Pittsburgh Pirates offered young Luman a lucrative contract. Fed up with his lack of success, he decided to go for it and announced this during a concert one night. The Everly Brothers happened to be in the audience and after the show, they talked him into giving country music one more try. They suggested he record the Boudleaux Bryant song "Let's Think About Living," and sure enough, it was a Top Ten hit on both the country and pop charts. His follow-up, "The Great Snowman," was also a hit and Luman began organizing a promotional tour. Unfortunately he was drafted and spent the next two years in the military.He was discharged in 1964 and began recording for Hickory Records.
His debut single, "The File," made it to the Top 25. The following year, he became a member of the Grand Ole Opry. Luman eventually signed with Epic Records and soon had a string of major hits on his hands beginning with the Top 20 "Ain't Got Time to Be Happy." Over the next ten years, Luman released many more singles that made it into the Top 25 or better, including the Top Five hit "Lonely Women Make Good Lovers" in 1972. During these years, Luman toured extensively and frequently. The first country performer to perform in Puerto Rico, he also appeared on national and international television shows and remained a regular on the Opry, where his lively performances raised the eyebrows of the old timers who thought his music veered dangerously close to rock & roll at times. Luman had a major heart attack in 1975, and it took him nearly five months to recover. (Afterwards, he joked about his enormous medical bills during his Opry performances.) His final chart appearance came in 1977 with the Top 15 hit "The Pay Phone." The following year he contracted pneumonia and died at the age of 41. ~ Sandra Brennan, All Music Guide
PLEASE NOTE: I divided my uploads among multiple channels, Bookmark this link in your browser for instant access to an index with links to all of John1948's oldies classics. LINK: http://john1948.wikifoundry.com/page/...